 Savor the Sea, Celebrate with Style: Drizzle by The Beach Has it All
If you're looking for a restaurant that can offer a unique and unforgettable experience, Drizzle by The Beach is the perfect choice for you. Situated on the scenic East Coast Road, this restaurant offers a stunning view of the beach and a delightful sea breeze. But that's not all that makes Drizzle by The Beach stand out from the crowd.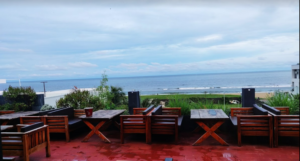 With a beautiful and spacious party hall, Drizzle by The Beach is an excellent option for your next birthday celebration, corporate team outing, or even a romantic candle light dinner. Our staff is dedicated to ensuring that your special event is unforgettable and that you have an experience of a lifetime. You can enjoy the sound of the waves and feel the breeze as you celebrate, making it a truly magical experience.
Apart from the beautiful party hall, Drizzle by The Beach is also known for its mouth-watering seafood dishes. Our expert chefs use only the freshest ingredients and the most innovative techniques to create seafood delicacies that will leave your taste buds craving for more. From succulent prawns and fish to the tastiest crab and lobster, our seafood options are sure to make your dining experience exceptional.
We take pride in being a pet-friendly restaurant, where you can dine with your furry friends in a relaxed atmosphere. Our restaurant is also kid-friendly, and we have a special kids menu to cater to their tastes.
So, whether you're looking for a night out with friends, a family dinner, or a romantic date, Drizzle by The Beach is the place to be. Come savor the sea, celebrate with style, and create memories that will last a lifetime.
How to Reach Drizzle By The Beach ?
Drizzle by The Beach is located at ECR, Palavakkam, Chennai. You can reach us by driving or taking a cab from anywhere in the city. There is ample parking space available on-site for the convenience of the guests. Simply follow the link to the Google Maps: https://goo.gl/maps/pTKubUJmPYCwi55DA.